工商管理学院(MBA学院)介绍
Introduction of the School of Business Administration
(MBA school)

一、专业特色
Program Highlights
软科最好学科排名全国第15位,学科实力居全国前5%。
Business Administration ranked 15th among the best soft subjects,top 5% in discipline strength.
学科通过中国高质量MBA教育认证(CAMEA认证)、AMBA认证和BGA金牌认证,连续8年获准ACCA白金级会员。
The discipline has passed China's high-quality MBA education certification (CAMEA certification), AMBA certification and BGA gold certification, and has been approved as ACCA platinum member for eight consecutive years.
历史悠久,拥有20余年的工商管理博士点建设经验,为区域和国家输送了一大批博士人才;拥有博士后流动站,拥有工商管理、市场营销、人力资源、国际商务4个专业为国家一流专业。
With a long history and over 20 years of experience in the construction of doctoral programs in business administration, SBA has provided a large number of doctoral talents for regions and countries. SBA has postdoctoral station and Business Administration, Marketing, Human Resource Management, and International Business,which have been listed among national first-class majors.
工商管理学科是浙江省A类一流学科,浙江省唯一重点建设的工商管理优势特色学科,中国人民大学商学院战略共建学科。
Business Administration is one of theadvantaged characteristic disciplines and first-class discipline (Class A)in Zhejiang Province. SBA has carried out strategic cooperation with the Renmin Business School.
拥有一支年龄、学历和职称结构较为合理的教职工队伍,其中国家级人才10人次,教授30余人,博士生导师20余人,90%以上教师拥有博士学位。
SBA has a team of staff with a reasonable structure of age, education backgrounds and professional titles, including 10 national talents, more than 30 professors, more than 20 doctoral supervisors. And more than 90% of the teachers have doctoral degrees.
《组织行为学》《人力资源管理》等课程为教育部来华留学生示范课程。
Organizational Behavior, Human Resource Management and other courses are the model courses for international students from the Ministry of Education.
《商业运营与模拟》是中国最早采用芬兰CESIM 系统的高校;"案例精英赛"注重整合实践能力;拥有一批优秀的企业实践基地。
Business Operation and Simulation is the first university in China to adopt the Finnish cesim system; case elite competition focuses on the integration of practical ability; it has a number of excellent enterprise practice bases; it is the first university in China to adopt the CESIM system of Finland.
品牌国际志愿者活动--"丝路心语爱心桥"荣获2020年全国文化和旅游部志愿服务项目"一等奖"。
Brand International Volunteer Activities - Silk Road and Love Bridge won the Ministry of Culture and Tourism first prize (2020).
旨在培养"具备全球视野、传承浙商精神、富有创新能力、勇担社会责任的卓越商科人才"。先后培养出孙冶方奖获得者王俊豪教授,阿里巴巴资深副总裁彭蕾、淘宝网创始总裁孙彤宇等商界精英。学科生源充足,研究生报录比超过6:1,本硕博平均就业率超96%。
The aim of school is to cultivate "Outstanding business talents with Global Vision, inheriting Zheshang Spirit, innovative ability and social responsibility". School has trained Sun Yefang Award winner Professor Wang Junhao, Alibaba Senior Vice President Peng Lei, Taobao founder President Sun Tongyu and other business elites. The SBA enrollment ratio of graduate students is over 6:1. The average employment rate is over 96%.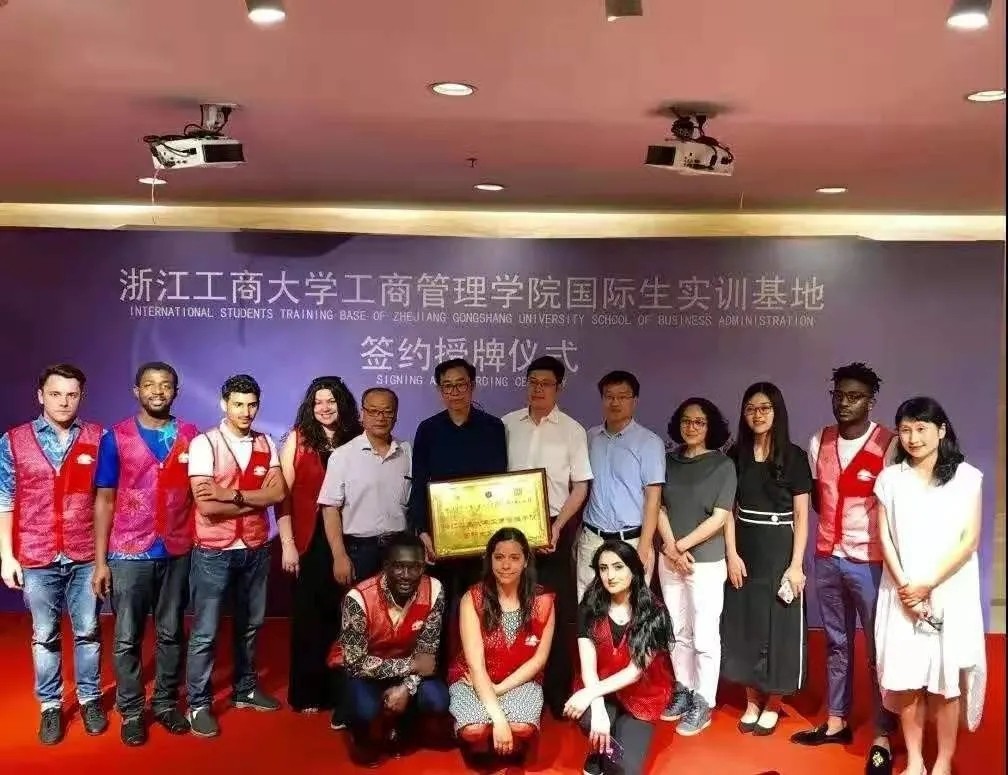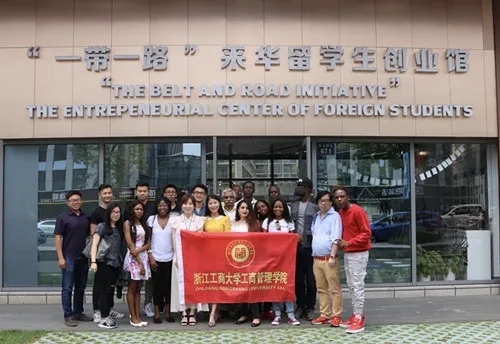 二、培养目标
Educational Objectives
1、国际商务本科
本专业旨在培养学生扎实的国际商务知识,包括国际法律、国际惯例及各项应用技能,使学生了解当代中国的政治、经济与文化,能够参与并促进中国与其所在国之间的友好交流与合作。此外,本专业的学习还注重提高学生的各项业务操作技能,如企业规划、国际商务管理、企业法律咨询、企业环境分析及熟练的商务英语沟通等。毕业学生将来可以实现多行业就业,如跨国公司、咨询机构、涉外工商企业,政府经济管理部门及教育机构等。
The Bachelor Program of International Business is designed to help undergraduates:
Have a good master of professional knowledge in the area of international business including international business laws, conventions and skills.
Acquaint students with Chinese politics, economics, and culture, and contribute to friendly international exchange and cooperation.
Obtain practical operational capabilities in business via this program, such as business planning, international business management, business legal consultancy, business environmental research, and business English communication.
Graduates of this program are prepared for careers in multinational companies, consultant agencies, international trade business, and economic departments in government and in research institutions.
2、工商管理博士
该项目侧重于高级工商管理应用人才和专业研究人员的培养,旨在培养留学生系统地掌握企业管理领域的前沿理论及科学研究能力。通过学习,留学生将实现以下预期培养目标:
•了解企业管理研究与发展动态。深入了解中国经济改革历程与企业发展特征,培养具有国际视野、了解当代中国的政治、经济与文化、能够参与并促进中国与其所在国之间的友好交流与合作的学生。
•依据学术研究规范,能运用计量、统计、博弈论等分析方法进行管理问题的分析和研究。
•具有一定的独立从事科学研究能力和较强的开拓创新精神。
The doctoral program of business administration focuses on the training of senior business administration application talents and professional researchers, and aims to train foreign students to systematically master the cutting-edge theory and scientific research ability in the field of business management. Through learning, international students will achieve the following expected training objectives:
•Understand the research and development trends of enterprise management.
Deeply understand the process of China's economic reform and the characteristics of enterprise development, cultivate students with international vision, understand the politics, economy and culture of contemporary China, and be able to participate in and promote friendly exchanges and cooperation between China and its host countries.
•According to academic research norms, be able to use analysis methods such as measurement, statistics and game theory to analyze and study management problems.
•Have a certain ability to engage in scientific research independently and strong pioneering and innovative spirit.
三、主要课程设置
Main Courses
1、国际商务本科 The Bachelor Program of International Business
普通共同课程:发展汉语、中国经济社会、当代中国全景、感知中国、中国概况、办公软件高级应用等
学科共同课程:管理学原理、微观经济学、宏观经济学、基础会计学、组织行为学和市场营销学等
专业核心课程:国际商务概论、商务分析基础、企业国际化发展与管理、国际商务策划、国际市场分析等
一般选修课:国际商务谈判、跨境电子商务、国际商务礼仪、国际外包、项目管理、跨文化沟通、品牌与形象战略、网络营销、国际商法、管理统计与软件应用、商业智能、管理研究方法、商业模拟、广告学、消费者行为学等
Common Courses: Developing Chinese, Economy and Society in China, Panorama of Contemporary China, Outline of China, Experience China, and Advanced Application of Office Software
Subject Common Courses: Principles of Management, Economics, Fundamental Accounting, Organizational Behavior and Marketing
Core Courses: International Business, Business Analysis, Internationalization and Management of Firms, International Business Planning, and International Market Analysis
Optional Courses: International Business Negotiation, Cross-Border Electronic Commerce, International Business Etiquette, International Outsourcing, Project Management, Cross Culture Management, Brand and Image Strategies, Network Marketing, International Commercial Law, Management Statistics, Business Intelligence, Management Research Method, Business Simulation, Advertising, Consumer Behavior and so on.
2、工商管理博士The doctoral program of business administration
必修课程:中国概况、汉语、组织行为学、管理研究方法、战略管理、市场营销。
选修课程:人力资源管理、宏观经济学、微观经济学、研究设计工作坊,论文写作工作坊、中国公司治理、创业管理、社会网络研究等。
Compulsory Courses: Basic Chinese, Outline of China, Organization Behaviour, Management Research Method, Strategic Management, Marketing.
Optional Courses: Human Resource Management, Macroeconomic, Microeconomics. Research and Design Workshop, Thesis Writing Workshop,,Corporate Governance in China,Entrepreneurship,Social Network Analysis , etc.
四、丰富的奖学金
Various of scholarships
1、浙江省政府来华留学生奖学金
本科:20000元/年
硕博:30000元/年
Zhejiang Provincial Government Scholarship
For graduates: 20000 RMB/Year
For postgraduates: 30000 RMB/Year
2、浙江工商大学奖学金
Zhejiang Gongshang University Scholarship
一等奖学金:100%学费
二等奖学金:70%学费
三等奖学金:40%学费
First prize:100% of tuition fee
Second prize:70% of tuition fee
Third prize:40% of tuition fee
3、浙江工商大学校长奖学金(硕博)
A类:免学费、免住宿费、提供综合医疗保险费和生活费(生活费标准:博士:2000元/月;硕士:1700元/月,一年补助12个月)
B类:免学费、免住宿费、提供综合医疗保险费
Zhejiang Gongshang University President Scholarship (For postgraduates)
Type A: Tuition fee, accommodation fee,overall medical insurance and stipend (2,000yuan/month for PhD students; 1700yuan/month for master students).12 months for one year.
Type B: Tuition fee, accommodation fee, overall medical insurance
五、如何申请
How to apply
方法1(Way1): 在线申请(Apply online)
https://hzic.at0086.cn/StuApplication/Login.aspx
方法2(Way2): 扫描图中二维码提交申请(Scan QR code)



更多申请细节及奖学金信息请参见浙江工商大学国际教育学院官网:http://sie.zjgsu.edu.cn/
For more details on application and scholarship, Please refer to the official website of College of International Education of Zhejiang Gongshang University:http://sie.zjgsu.edu.cn/en/